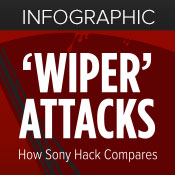 'Wiper' Attacks: How Sony Hack Compares Infographic Analyzes Similarities Among Breaches By Mathew J. Schwartz, December 9, 2014. Follow Mathew J. @euroinfosec
The "wiper" malware attack against U.S.-based Sony Pictures Entertainment has numerous similarities to previous wiper attacks against firms located in Saudi Arabia and South Korea, anti-virus firm Kaspersky Lab reports.
See Also: Mobile Deposits & Fraud: Managing the Risk
While that's no smoking gun proving that the same group is behind all three attacks, "it is extraordinary that such unusual and focused acts of large-scale cyber destruction are being carried out with clearly recognizable similarities," says Kurt Baumgartner, a Kaspersky Lab principal researcher, in a blog post.
Here's how these three separate wiper-malware campaigns are similar, as well as the key ways in which they differ:
> Download PDF