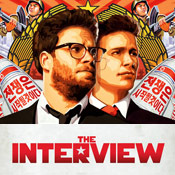 Sony: Controversial Film Breaks Record Meanwhile, North Korea Blames U.S. for Internet Outages
By Mathew J. Schwartz, December 29, 2014.
In the latest twist in the saga of the Sony Pictures Entertainment hacking incident, the comedy film "The Interview" has stormed to on-demand success, taking in $15 million in online sales through Dec. 27. Sony Pictures says the movie is the studio's highest-grossing online release of all time.
See Also: 'Black Friday' Cybersecurity Challenges for the Banking & Merchant Community
Sony released "The Interview" on Dec. 24 via YouTube, Google Play and Microsoft Xbox, as well as a dedicated movie website, after which it was downloaded more than 2 million times. The film was subsequently added to Apple iTunes on Dec. 28, where it can be rented for about $6 or bought outright for about $15. "We're pleased to offer 'The Interview' for rental or purchase on the iTunes Store," Apple spokesman Tom Neumayr says in a statement.
Meanwhile on...(continued)